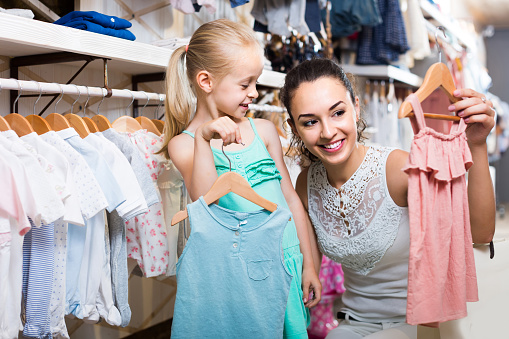 Are you a mom who can never find well-designed clothes for your baby? Or are you looking to start your own clothing business for babies? Well, keep reading as we explore how you can design your baby frocks! Yes, you read that right. Not only is designing your baby's clothes fun and a great way to kill time, but it is also very economical. During such tough economic times, spending a hefty amount on baby clothes can get tricky, but we have you covered! Here are four homemade baby frock design patterns:
1. Round neck design
Let's start with an effortless design. Designing a dress doesn't particularly have to be from scratch. You can reuse your baby's old clothing and, by the cut and attach method, transform it and make it look new! Like the picture above, you can take any new dress and buy a fancy lace. The picture above used orange lace in contrast to the dress. Then, you just have to sew the lace at the neck of the dress neatly. If you want to revamp an old dress for a more formal event, you can stitch some beads or a multi-colored lace.
2. Handkerchief frock design
Next on our list is the most famous handkerchief baby frock design. It is perhaps one of the most budget-friendly AND stylish frock designs. All you need is a clean handkerchief of the creation of your choice. You can use your baby's old dress to cut an outline of the body and start stitching it. To add a little more oomph to your dress, you can cut the below of the dress in a zigzag pattern and attach a bow to it! The bow is not only the perfect accessory to add to the dress but is also a good way of making it seem like a professional has made it.
3.     Bandana frock design
Many of you must have already heard of the bandana shirt hack, but did you know you could do the same for a baby dress? It is perhaps the most accessible baby frock design and the trendiest one too! All you need is a bandana and some ribbons. You can start by folding the bandana and roughly loosening it to the size of your baby. Then, you can add an elastic band to make the body, as shown in the picture above. Try it on your baby and check if the elastic needs adjusting. Once you have finalized the size, you can go one by accessorizing it with ribbons. Ribbons also act as straps for the frock, making it look even cuter!
4.     Mismatch dress
Another great DIY you can attempt is the mismatched dress. As the name suggests, you can revise two of your old baby dresses and make them into something completely new! It won't even require a lot of stitching. All you need to do is cut the body of one dress and the bottom of another and sew them together. You can reference the picture above to see what color might go well with what pattern. This trick is perhaps one of the oldest in the book, but it works like magic every time! If you want to attempt this DIY for a more formal event, you can also add a bow or some sparkly buttons.
Frequently Asked Question
Q: Do I need to know how to sow for these hacks?
Yes, you will need to learn basic sewing, but that's all. You can easily learn some basic sewing techniques on YouTube.
Q: How time-consuming are these hacks?
They are not time-consuming at all! All you need is 15 to 20 minutes to revamp all your old baby dresses and transform them into something completely new!
To sum it all up!
Wanting new clothes doesn't always mean you have to spend a huge sum of money. DIY when you want new clothes but can't afford them are your best friend! We handpicked the above list of homemade baby frock designs very carefully, keeping in mind that most people reading this article will be attempting a DIY for the first these. Not only are these hacks budget-friendly, but they are also very sustainable. We hope the above information about four homemade baby frock design patterns and wish you the best of luck as you begin your "do it yourself" journey!